5005 S. Butts Rd. | Tucson, AZ 85757 | Office: 520-908-4600 | Attendance: 520-908-4602 | Fax: 520-908-4601 |
email Vesey
School Hours - M T TH F - 9:10 am - 3:25 pm W 9:10 am - 2:25 pm | Office Hours - 8:30 am - 4:00 pm
What Makes Us Special
Here at Vesey we are family. Some of our extracurricular activities include Nights at the International Wildlife Museum, Pizza night, Movie night, Science fairs and Fall Festival. After School tutoring, Mariachi and Cross Country are some of the ways we encourage the best in our students.
Vesey Elementary School has award winning teachers and staff and offers a variety of experiences to provide meaningful, individualized learning. Teachers provide one-on-one, small-group and whole-group instruction to meet the needs of every student. The school has a multi-age classroom as well as a "looping" option, where students can stay with the same teacher for more than one year.
Eat green pancakes on Dr. Seuss' birthday, make and ride your own pony for Rodeo days, Jump for Heart and participate in AZMerit send off with a live band. Just a few of the ways Vesey makes learning fun.
Vesey has a data wall for reading and math where teachers can see how all students are doing in color-coded fashion: names in red, yellow or green. Teachers use the wall for lesson planning and to get a clear picture of children's needs. Through all classes, standards-based curriculum is designed to ensure children excel at the next level.
The school also offers orchestra and band, full-day kindergarten and arts instruction in a supportive environment where each child is made to feel important.
COVID 19 DASHBOARD
The daily counts show how many persons notified School Health Services of their positive case. They are not cumulative and do not show when COVID began or was confirmed via testing.
Order Your Yearbook For Vesey Elementary School Today! $12 each
Thank you to Bess Spiva Timmons Foundation!

Vesey would like to send a special thank you to the Bess Spiva Timmons Foundation whose generous donation helped bring Reading Seed to our school. Vesey is very grateful for your financial support to help our students continue to grow!
TUSD Benchmark Assessments FYI
Tucson Unified School District assesses students' mastery of Arizona's state standards in English Language Arts (ELA) and Math using district tests known as Benchmark Assessments.
View the TUSD Benchmark Assessments
to find out more information.
Cool stuff!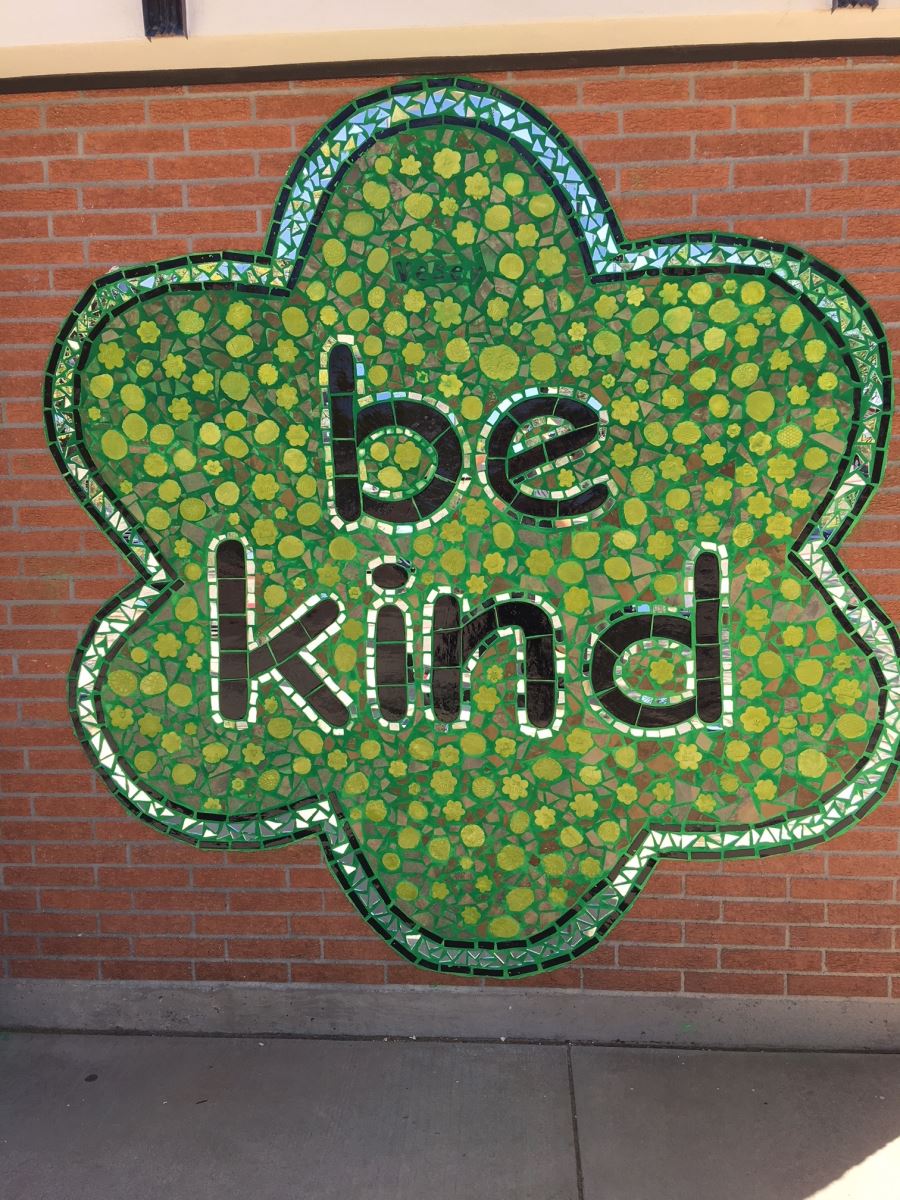 Thank you!
We are a "Be Kind" school!
We are officially a "Be Kind" school!! Thank you so much to all the supportive parents, amazing students, and dedicated staff that assisted in creating this beautiful piece of art on our wall.
Pre-School
Vesey PEEPS Program
VESEY PEEPS PROVIDES FOUNDATION FOR SUCCESSFUL TRANSITION TO KINDERGARTEN
5005 S. BUTTS RD. TUCSON, AZ 85757
For any questions regarding the PEEPS pre-school program, please contact the Preschool Department at Community Services at (520) 225-1177.